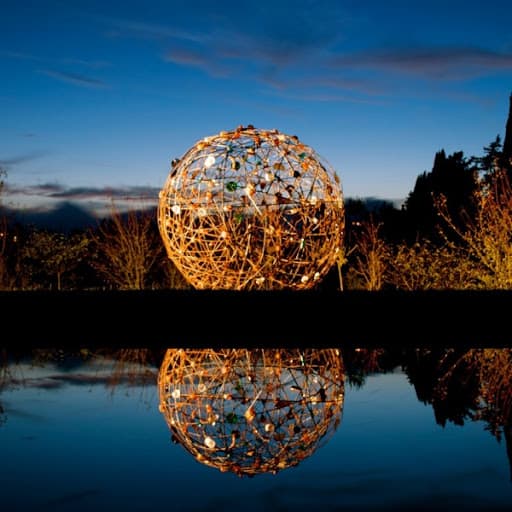 Maremma also means art: numerous artists chose this very territory as the place to express their creativity and give their artworks a setting, even more so as this context is a rural, untouched one. They have also been drawing their inspiration from this land, producing true masterpieces, now famous all over the world.
THE TAROT GARDEN
The most famous and must-see destination in this sense is the Tarot Garden: approximately 2 hectares of sheer natural and artistic marvel nestled among the hills that slope towards the coast and the medieval town of Capalbio. A unique expression of contemporary art designed by the French-American artist Niki de Saint Phalle, who among other things signed, together with her husband Jean Tinguely, the famous Stravinsky Fountain located at the Centre Pompidou in the Beaubourg district in Paris. This garden is placed nearby Capalbio, chosen by the artist as her home in Maremma for some time. It hosts 25 monumental sculptures inspired by the figures of the Major Arcana of the tarot deck, which were realised following the techniques Gaudi used in his Park Güell in Barcelona.
The garden is always open for visits but during the low season it is always advisable to check by phoning +39 0564 895122
DANIEL SPOERRI'S GARDEN
Closer to Mount Amiata, the municipality of Seggiano hosts instead Daniel Spoerri's Garden. Here visitors can embark on a journey through the world of art defined by Spoerri himself as "snaring art", where the love-fear duality characterising every human being is put on display.
The Swiss artist started working on this sculpture park over twenty years ago, although it was only in 1997 that it was opened to the public. Among its most evocative elements there are the famous iron origamis by Japanese artist Kimitake Sato, and Spoerri's installation titled "Warriors of the Night". The emblematic image of this garden shows 160 concrete ducks marching towards Seggiano, guided by three over 3m-high drummers. We remind all interested people that the garden is only open to the public at certain times of the year and that reservation is compulsory for a guided tour. Daniel Spoerri's artworks are showcased in the major museums of contemporary art of the world, like MoMa in New York City.
The garden is always open yet during the off season it is highly recommended to phone +39 0564 950553 prior to a visit.
PAUL FUCHS' GARDEN OF SOUNDS
Another must-see destination for those who love art in all forms and expressions is Paul Fuchs' Garden of Sounds in Boccheggiano. What is peculiar about this garden is not just the artworks it contains, but the way they are placed within it. Fuchs thoroughly and meticulously studied the geographic position of every installation of his, taking into account the way winds blow in this area, thus creating the necessary conditions for a truly fascinating auditory experience. The garden is part of the German artist's private house garden, and it is Paul Fuchs himself who leads visitors on their tour discovering his work. At the end of it, the host carries out a live performance with the most peculiar instruments.
Visits to the Garden of Sounds require a reservation, that can be made by phoning +39 0566 998221.
VIAGGIO DI RITORNO BY RODOLFO LACQUANITI
Another wonderful artist's park is that created by the bio-architect Rodolfo Lacquaniti, titled Viaggio di Ritorno (A Return journey).This park as a whole represents an artwork with a fundamental social message. Lacquaniti's garden is conceived as a global project which aims to provide modern man with a higher awareness about themes such as the protection and conservation of the natural environment. All the works of art on display were in fact realised with recycle and waste material, in order to further strengthen the underlying social message.
Viaggio di Ritorno is located inside Buriano's Agriturismo Podere il Leccio, in the municipality of Castiglione della Pescaia. We recommend contacting the facility before travelling there.
Visits must be arranged by phone: +39 335 5247472
MAURO CORBANI'S GIARDINO D'ARTISTA
In the heart of the medieval town of Scarlino, artist Mauro Corbani created a small garden full of marvels. His tribal-style sculptures are the result of an ongoing process of research and constant contamination with the most varied cultures that the artist comes across during his travels around the globe. As Corbani travels, he comes into contact with simple villages, dry sandy lands, wavy waters, different skies and winds, new smells and tastes, voices and rhythms, absorbing and turning them all into art. These creations represent a strong message for whomever wants to reach out to the world, abolishing any conception of walls and barricades. And this is probably the reason why his art got showcased in New York, Basel, Philadelphia, Istanbul and Bangkok.
In order to visit Mauro Corbani's artistic garden phone +39 0566 37329 and make a reservation, which is recommended.