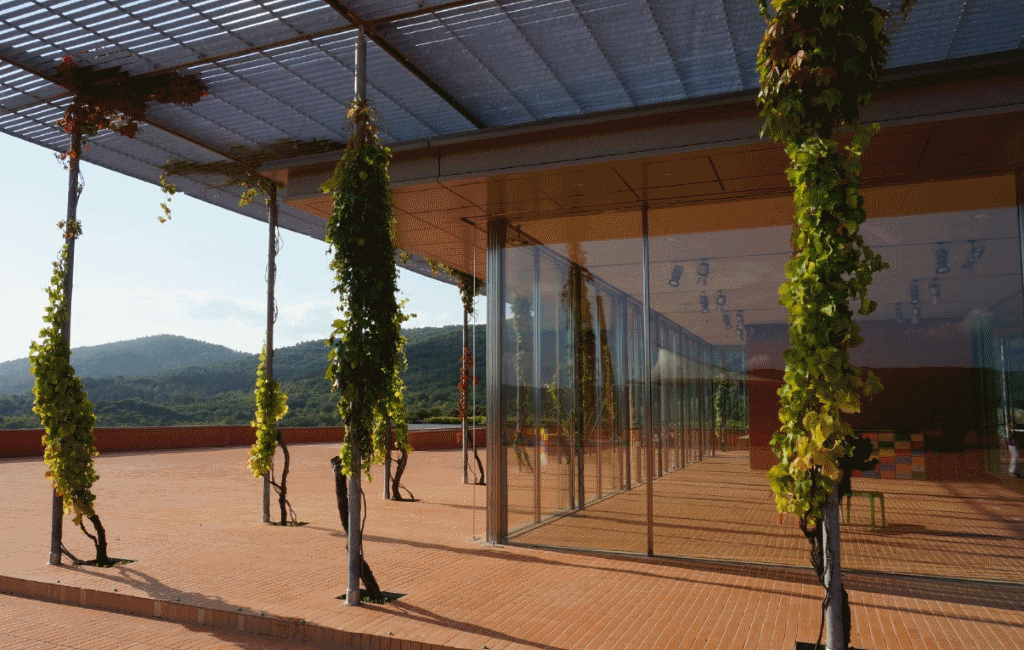 Over the last decade the sector of viticulture and wine production in Maremma has flourished so much that Maremma has been awarded with the DOC label, becoming the place with the most prolific wine industry in Tuscany after Chianti and Chianti Classico. The big "families" of the wine industry picked the gentle slopes of Maremma and its briny air to build state-of-the-art wineries with a contemporary design. Star architects of the likes of Renzo Piano and Mario Botta, among others, designed structures which are worth a visit even for those who do not drink. Our staff will be able to arrange a guided tour with specialised oenologists, or even just a simple visit with a wine tasting included.
ROCCA FRASSINELLO
This is the design winery par excellence, the only one designed by the prestigious architect Renzo Piano in the country. It is located in Giuncarico Scalo, in the municipality of Gavorrano and it is considered one of the 14 most exclusive wineries in Italy. This winery features a wide outdoor area and a wonderful terrace overlooking vineyards and woods, the ideal place to taste great Tuscan wines in a stylish location. Part of the wine selection are wines such as Baffonero, Rocca di Frassinello, Le Sughere di Fassinello, Ornello, Poggio alla Guardia and Vermentino.
LE MORTELLE
This is one of the wineries realised by the Antinori family, located in Ampio, within the municipality of Castiglione della Pescaia. Le Mortelle features a unique design by the Florence-based architects of Studio Hydea, the same who designed Cantina del Bargino. Le Mortelle is characterised by its modern interiors, organised around a spiral steel staircase that leads to the barrique cellar and its crystal tasting room. Among the available wines we like to mention Vivia, Botrosecco, Poggio alle Nane.
ROCCA DI MONTEMASSI
This winery was built by the Zonin family with a unique architectural style which looks back to the past thus celebrating the force of tradition. A wing of this winery is occupied by the Museum of Rural Civilization, which tells its visitors about the rural spirit of Maremma through an expert and thorough display of relevant objects and machinery. Among our favourite wines there are
COLLE MASSARI
This winery was designed by architect Edoardo Milesi's workshop, the same team that designed the Monastery Complex of Siloe and the Bertarelli Foundation Forum. The estate is in Poggi del Sasso, in the municipality of Cinigiano, an area renowned for the production of Montecucco wine. Among its selected wines there are Melasse, Iriccio, Grottolo, Rigoletto, ColleMassari and Poggio Lombrone.
TENUTA AMMIRAGLIA
Located in Magliano in Toscana, more precisely at La Capitana, this distinctive winery is the result of the work of the Sartogo Architetti Associati studio, which was commissioned this project by the Frescobaldi family.
Among the suggested wines there are Aurea Gran Rosé, Terre More, Massovivo, Pietraregia.