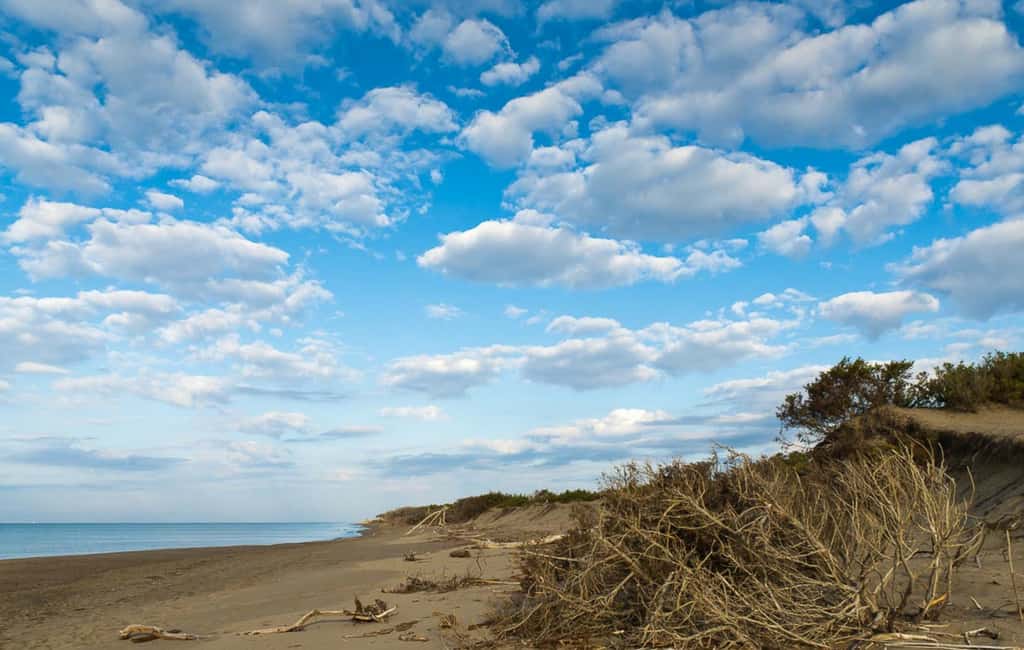 Spending holidays in Maremma means entering a land in an alternation of fascinating and extremely different places.
Holidays in the wild heart of Tuscany, in a protected nature composed of parks and nature reserves and WWF oasis. Almost 40000 hectares of reserves that characterize the Maremma as a land where respect for the balance of nature is strong; the highest example is the Maremma Natural Park, which was one of the first protected Italian areas.  The Maremma is also a paradise for those who love to explore nature on horseback, for lovers of trekking, sailing, diving, for lovers of surfing, golf and cycling.
Holiday at the seaside
Immersed in the clear waters of the Tyrrhenian Sea that laps a variegated coastline, composed of long beaches equipped and full of life, which are wild and semi-deserted. Impressive cliffs that sink into sea beds of rare beauty, formed by meadows of posidonia, caves, wrecks, shoals, walls. Small paradisiacal coves some of which are accessible only by sea and therefore little frequented even in the height of summer, and finally unique and fascinating islands.
Food and wine holiday
Holidays based on top-quality food and wine quality. The Maremma cuisine is strongly characterized by its simple and frugal origins, the direct relationship with the land and the sea has given life to a simple, tasty and genuine table where the dishes based on game occupy a place of prime importance.  As for the wines, you will find very high quality, today in Maremma there are a DOCG, seven DOC, two IGT, as well as three Roads of Wine.
Cultural holidays
For lovers of history and art. Innumerable traces of the past left by the Etruscans, the Romans, the Spaniards, by important medieval families such as the Aldobrandeschi and the Orsini, and later by the Medici. The Maremma offers the visitor a truly remarkable archaeological and artistic heritage, made of necropolis, rock settlements, remains of ancient cities, towers, castles, fortresses, bastions, cathedrals, monasteries, abbeys, parks and artistic gardens.
Thermal holidays
In Maremma you will find the Terme di Saturnia with the Cascate del Mulino, a place of international fame, already known by the ancient Etruscan people who attributed magical properties to these waters.