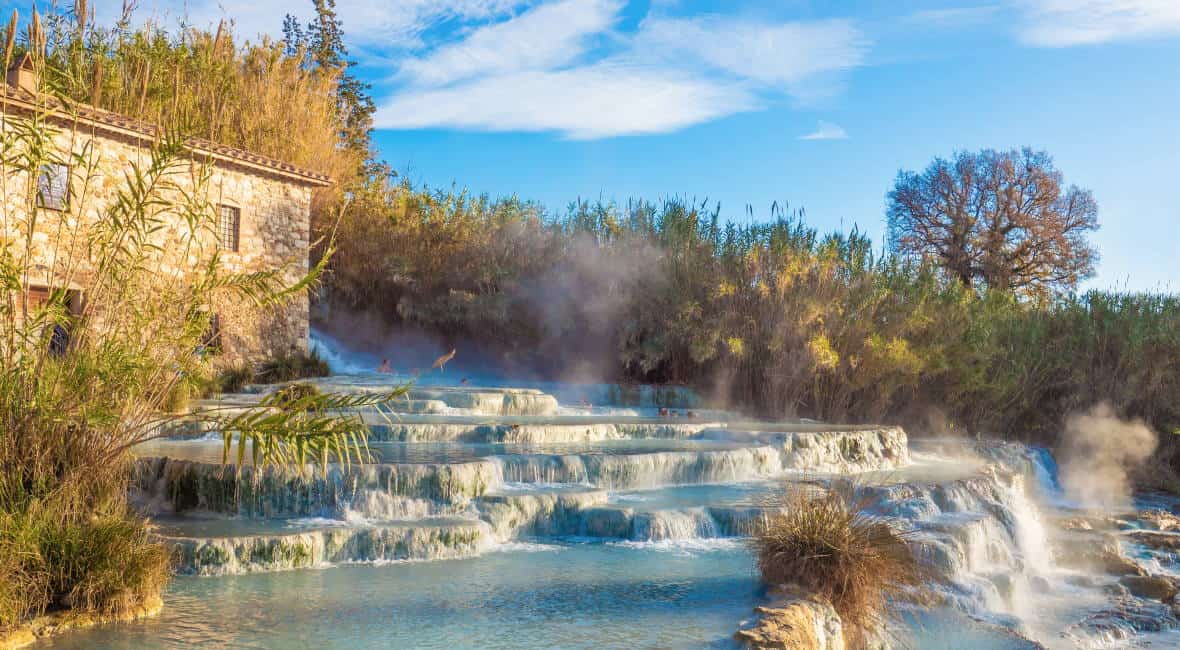 Tuscany as a whole has plenty of ancient spa resorts. Maremma features some of them, which have now become an asset known worldwide. BeVedetta staff is always available to make plans for you to spend a day in one of the following SPAs:
CALIDARIO TERME ETRUSCHE (33,5 KM APPROX.)
Nearby the Gulf of Follonica, towards Val di Cornia and along the ancient via Aurelia, Calidario Terme Etrusche are easily accessible from the facilities of BeVedetta, where people can enjoy a full day of relax at any time of the year. The natural hot springs anciently known as Aquae Populoniae, gush at a temperature of 36°C and form a large pool which is equipped with all comforts. Beside the historical spring, Calidario Terme Etrusche offers the Thermarium, a modern spa with sauna, Turkish bath and other wellness-related services.
PETRIOLO HOT SPRINGS (82 KM APPROX.)
Along the stream running at the border between the provinces of Siena and Grosseto, named Farma, there is a sulphuric spring that has a constant temperature of 43°C. This is rich in mineral salt and has multiple therapeutic properties.
Petriolo hot springs have been known since the Etruscan and Roman age, and they were also popular during the Renaissance. Many noble families, among which the Medici family, in fact came here from all over Italy in order to make the most of the therapeutic effects of these springs. This hyper-thermal waters merge with the uncontaminated fresh waters of torrent Farma thus reaching a more bearable temperature, so that they can be conveniently enjoyed for free in natural pools surrounded by nature.
TERME DI SATURNIA (95 KM APPROX.)
Saturnia's hot springs have been renowned and appreciated since Etruscan and Roman times. They are to be found in the tuff area located along via Clodia, and they owe their name to the legend according to which the god Saturn, furious with men, stroke a lightening against the earth, thus producing a hot sulphuric spring. Even nowadays the water comes out at 37°C, originating Gorello, a creek which further downhill forms a waterfall that later flows into another stream, the Stellata. The place named Cascate del Mulino consists of a set of spectacular waterfalls and natural pools that are amongst the most photographed attractions of Tuscan Maremma. Even Lonely Planet included them among the "world's best free hot springs".
TERME DI SORANO (127 KM APPROX.)
Terme di Sorano is a modern spa located along the road that links Pitigliano and Sorano, two towns important for the tuff industry of Maremma. In ancient times these baths were known as "the friars' baths", as the monks of the Pieve di S.Maria dell'Aquila used to enjoy these waters for therapeutic purposes. Sorano is less famous than Saturnia but it is highly considered nonetheless. The extraordinary properties of these waters have conferred this thermal area a high status within the sector of wellness in Maremma.