"A historic residence overlooking the Tyrrhenian Sea and the Maremma hills.
The place where my heart and family belong.
Vedetta is my home, 
immersed in nature and innovative comfort. And I want to share it with you.
Relais, Glamping. B&B, apartments.
Every setting reveals an attitude to be chosen based on your taste and affinities.
Vedetta is my home. And
today, it's your home too.
Welcome."
                                         Anna Barberini
ANNA
"I'm Anna Barberini, the hostess.
I was born in Scarlino and have travelled the world,
working as a top manager
for Italian and international companies.

In 2007, I decided to make my dream come true:
opening the family estate to the future
and those who love beauty,
nature and life.

My staff and I are waiting for you
and your furry friend,
if you have one!"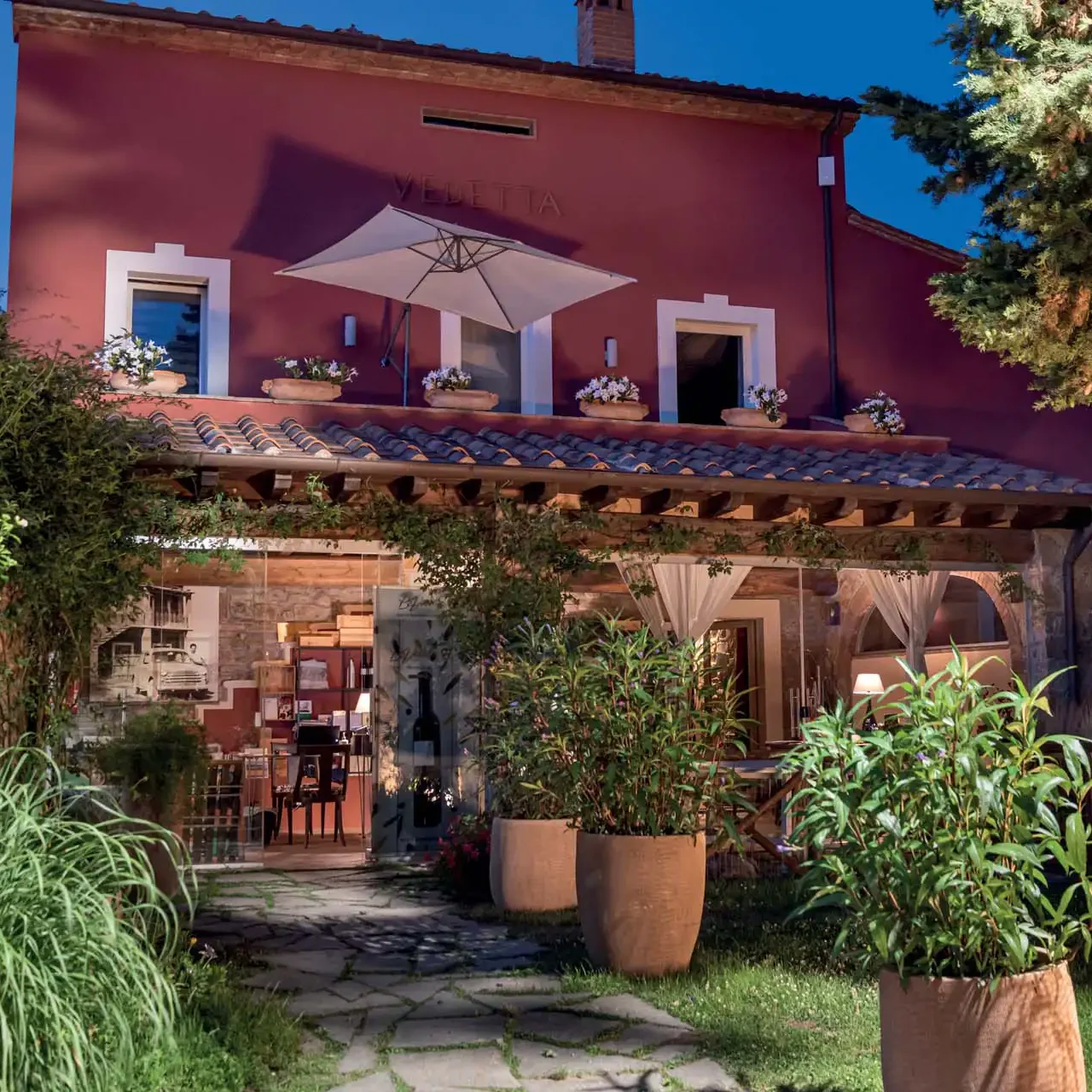 THE TEAM
A team of professionals is always happy to meet any desire or need, making your stay as comfortable as ever.
Lorenzo
- Hotel Manager
Valentina
- Professional Concierge
Remo
- Chef Artist
Letizia
- Master Sommelier
Paolo
- Genius Factotum
Daniele -
Cocktail Connaisseur
Antonella
- Breakfast Guru

Moreover, the housekeeping and room maintenance team and night concierge will make sure you feel safe and pampered at all times.
ECOLOVERS
Vedetta is nature, and here we respect it in every way. Our Restaurant – RossoCorbezzolo – uses oil and vegetables from the organic olive grove and vegetable garden surrounding the Relais and Glamping areas. We only use environmentally sustainable insecticides, agrochemicals, and pesticides. Moreover, our car park has an EV charging point available 24/7.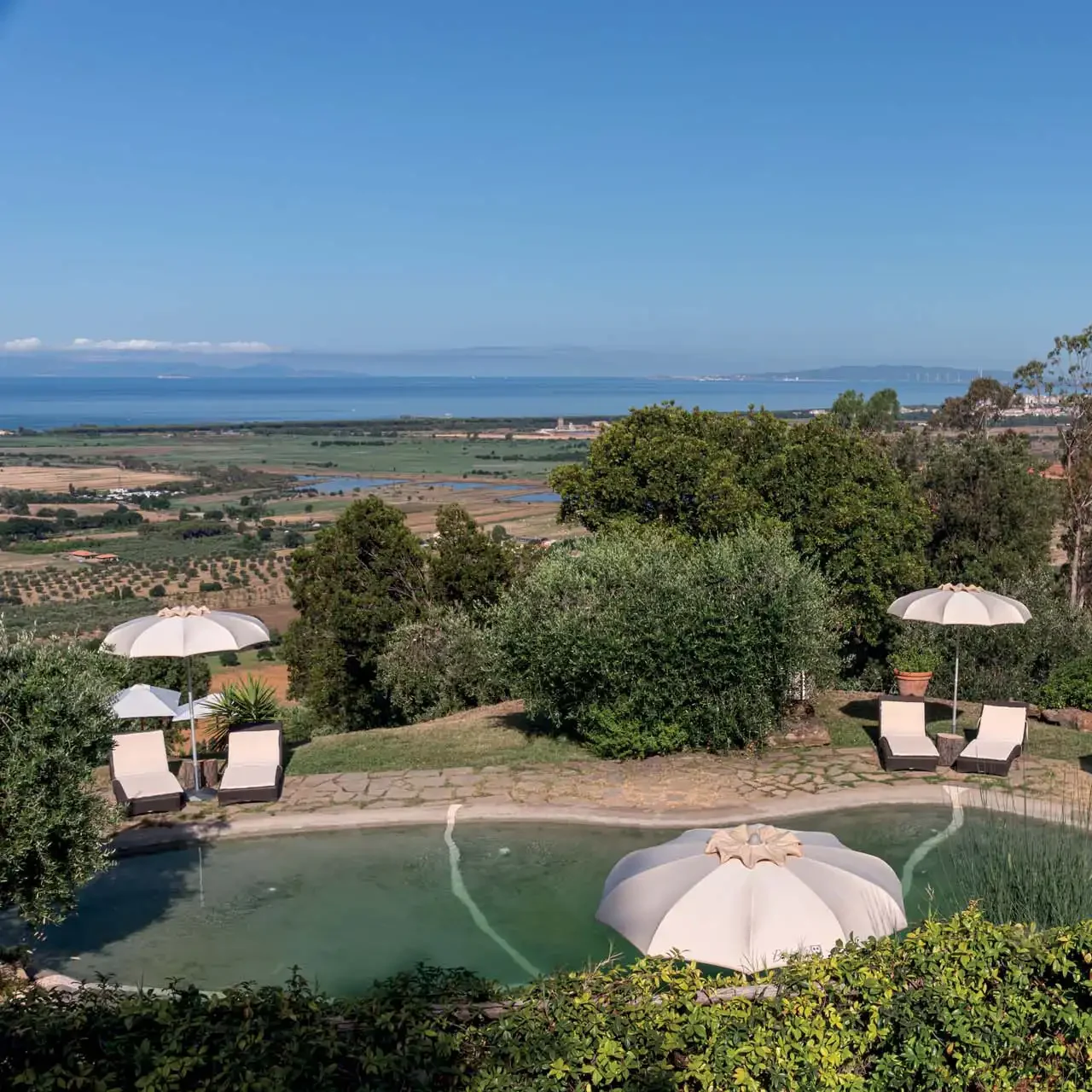 WATER
CARE
We care about water and don't want to waste a single drop. That's why we recover rainwater for the Relaxing Pool and garden. In our minibars, guests can find water in recycled aluminium cans free of charge.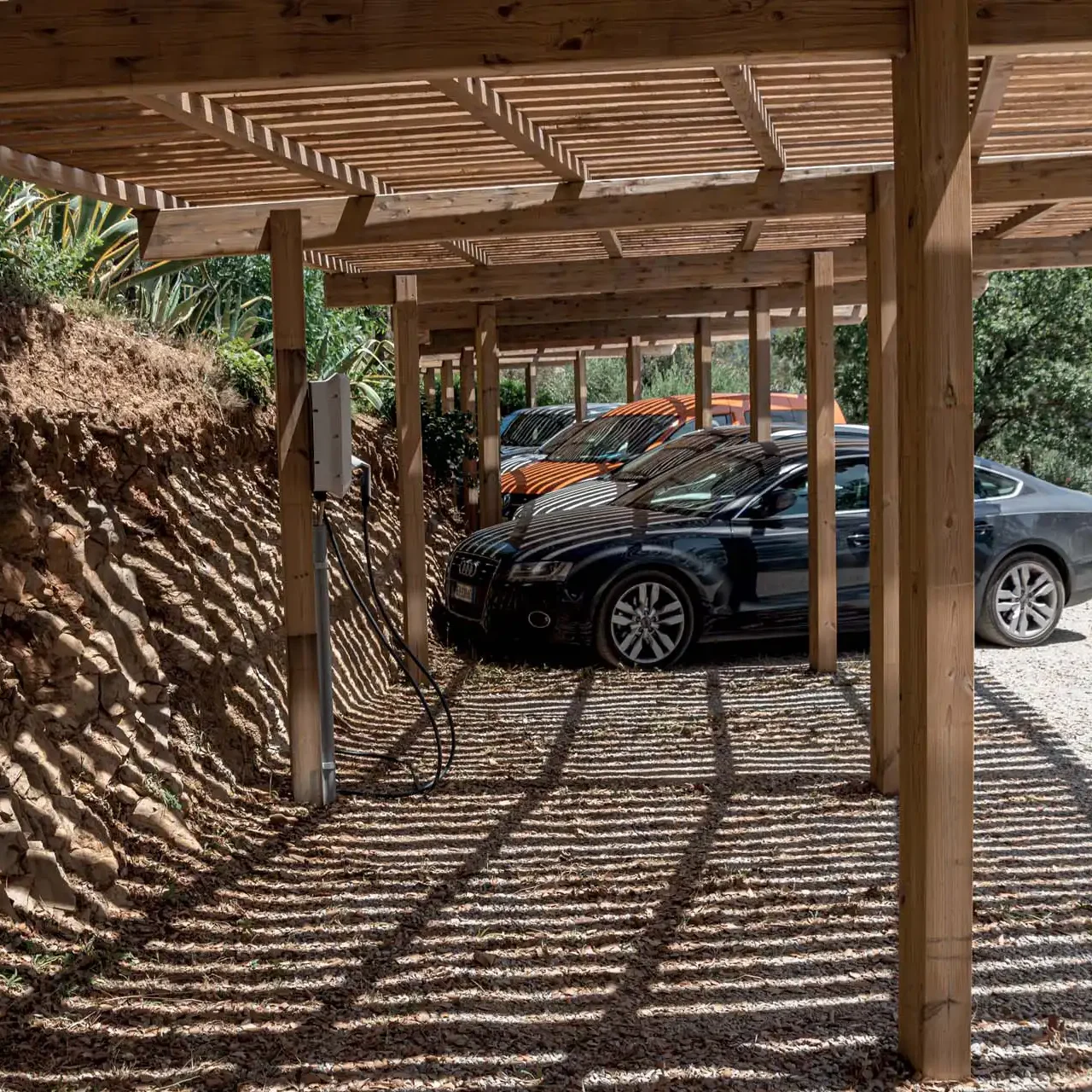 ELECTRICITY CARE
Here at Vedetta, we use only LED lights and obtain hot water from our solar panels. The garden lighting is reduced at certain hours, and an EV charging point is always available for our guests. Furthermore, we use only electric vehicles and provide our guests with e-bikes to move from one end of the estate to the other.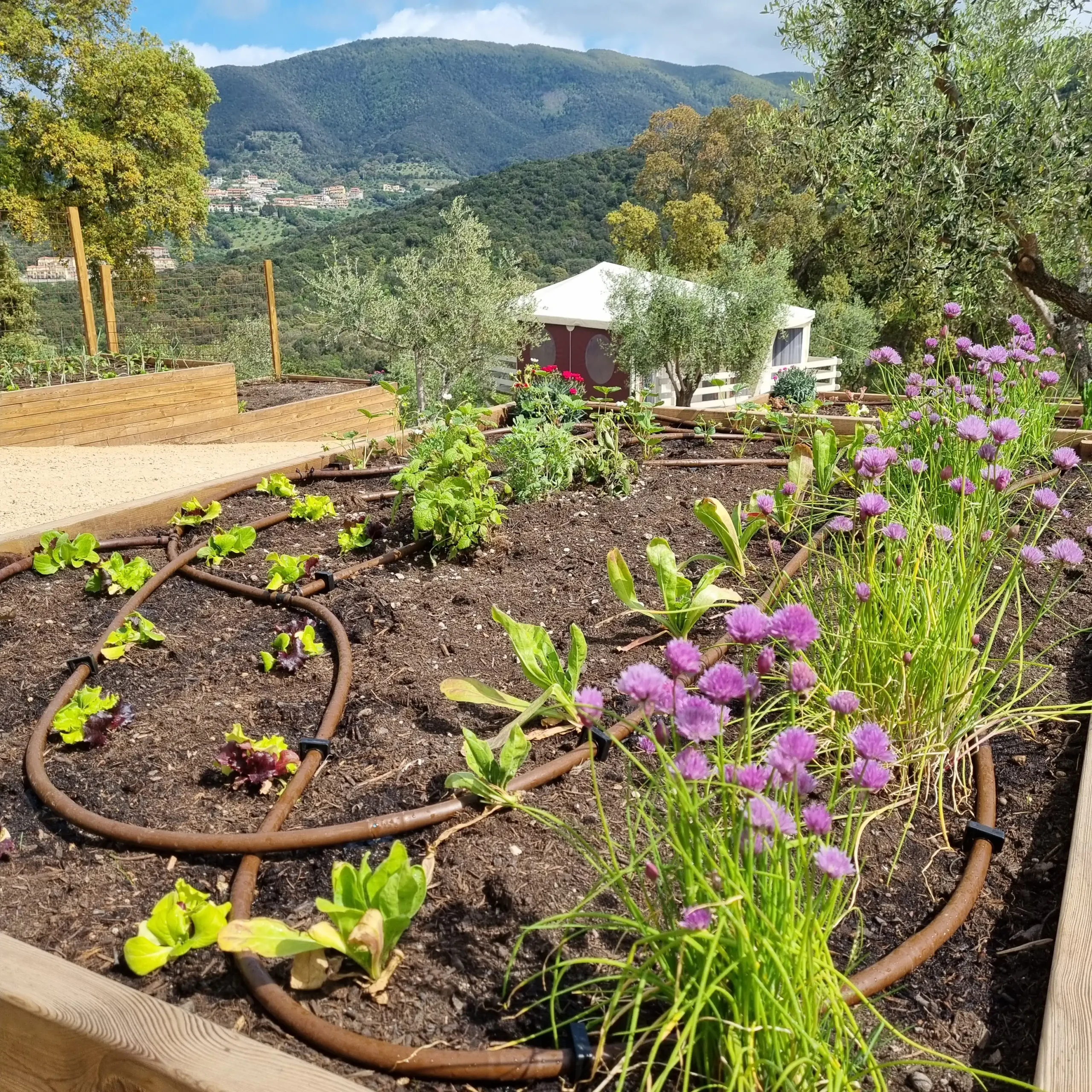 SUSTAINABLE
FOOD
For us, food is a cult. That's why we only use top-quality, local, organic ingredients. In addition, we produce extra virgin olive oil and purchase products for our restaurant at least three times a week. So every day, you can choose the menu for your delectable breakfast, which you can even enjoy in your room if you wish. Our restaurant – RossoCorbezzolo – combines excellent local produce with haute cuisine.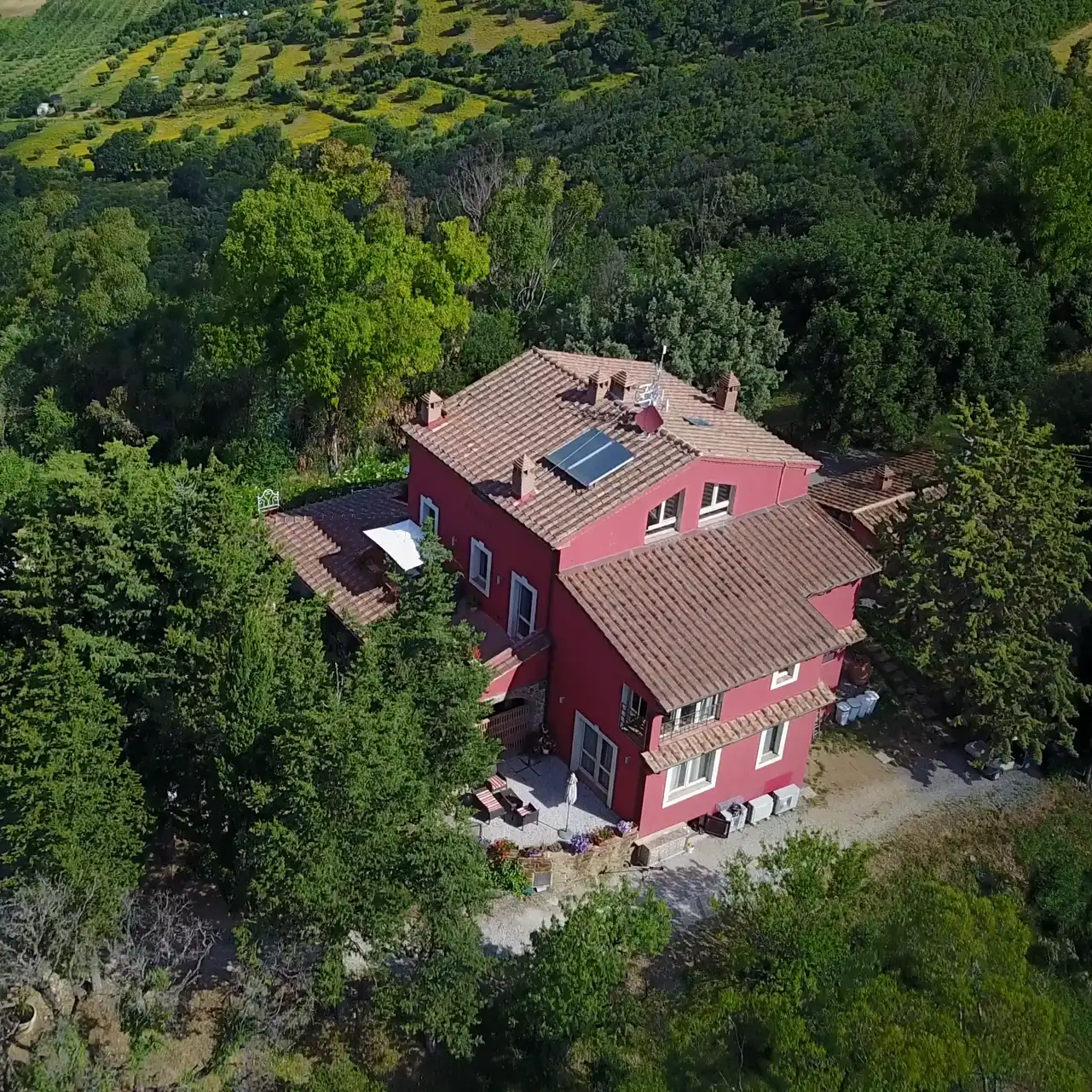 CHEMICAL IMPACT
Waste and pollution must be reduced as much as possible. That's why at Be Vedetta, we use soap and cosmetic dispensers in the rooms, change towels and sheets every 3 nights (unless you have special requests), and provide reusable cups and glasses. Separate waste bins are strategically located here and there, and we have long since eliminated plastic packaging of any kind. Moreover, we use only 100% sustainable cleaning products.
EVERYBODY IS WELCOME HERE
THE RESTAURANT
"Tables in the shade of holm oaks overlooking the infinite sea.
Excellent ingredients, vegetables from the garden,
and authentic flavours masterfully reinvented
and paired with Maremma and Tuscan wines.
Buon appetito!"
RELAXING POOL
A regenerating oasis with a breathtaking view over Tuscany's most beautiful sea. The sun loungers and umbrellas by the water are surrounded by plants and flowers, while other ones are arranged on terraces to ensure privacy. The Relaxing Pool, whose water changes colour with the passing of the hours and the changing of the seasons, is surrounded by blooming nature. It was made using an environmentally sustainable resin and quartz powder mixture. Moreover, its natural and elegant effect fully aligns with Vedetta's aesthetic standards.
ACTIVITIES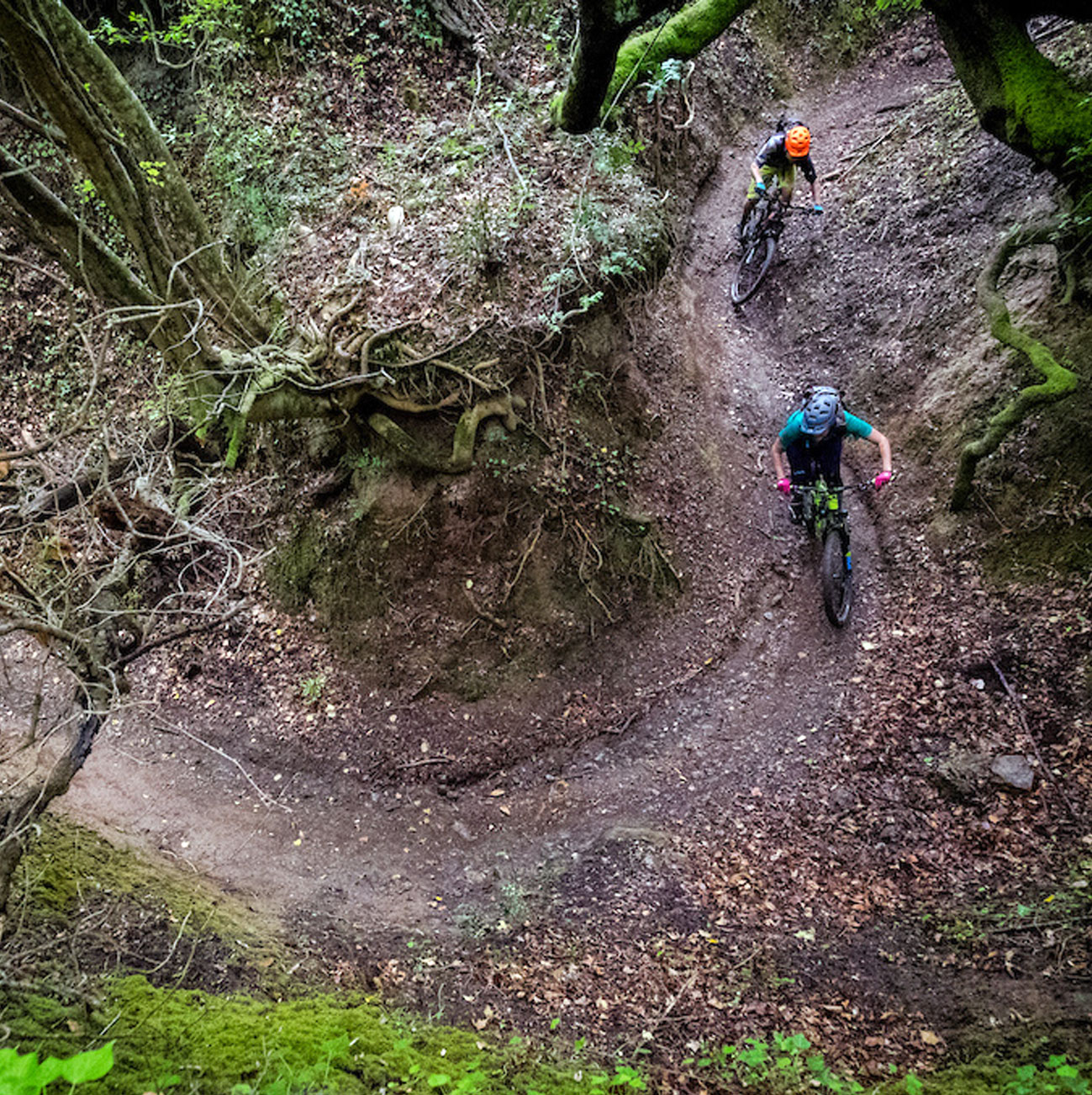 Be Vedetta is passion for sporting activities and in contact with the sea or the Maremma hinterland. We are available to accompany you, rent equipment or organize ad hoc itineraries and experiences. In the surroundings it is possible to practice MTB, trekking, e-biking, archery, horse riding, diving, sailing, bike n'kite, kite surfing and windsurfing.
"Un vero gioiello per romantici incalliti"
"Ospitalità contemporanea"